Democratic chairman 'not wild' about Joe Manchin for Senate ad
Senate candidate Joe Manchin of West Virginia, a Democrat, denigrated 'Obamacare' and shot a hole in the cap-and-trade bill. Democratic National Committee Chair Tim Kaine was not impressed.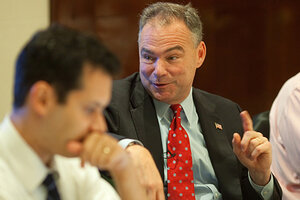 Michael Bonfigli/Special to The Christian Science Monitor
In an usual move for an election year, the Chairman of the Democratic National Committee criticized a video ad by his party's candidate for the US Senate from West Virginia.
At a Monitor-sponsored breakfast with reporters Thursday, DNC Chair Tim Kaine was asked about an ad West Virginia Gov. Joe Manchin released this week in his bid for the Senate seat formerly held by the late Robert C. Byrd. In the video, Governor Manchin fires a rifle at a mock copy of the "cap and trade" energy bill which died in Congress earlier this year.
Manchin, now in a tight race with wealthy Republican businessman John Raese, also says he would vote to repeal the "bad parts of Obamacare" using a critical term for health-care reform usually favored by Republicans. Mr. Raese has paid out of his own pocket for ads charging that Manchin would be little more than a "rubber stamp" for President Obama's policies if he were elected.
---