Democratic leader says GOP campaign cash threatens Watergate reforms
Democratic National Committee chair Tim Kaine criticized the GOP for relying on anonymous donations. The source of funds for campaign ads should be disclosed, Kaine said.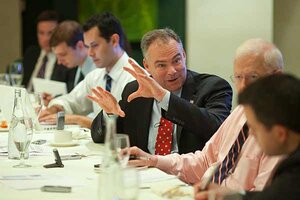 Michael Bonfigli/Special to The Christian Science Monitor
In the 2010 election, the Republican Party is relying on anonymous campaign donations in a "concerted effort" to reverse Watergate-era election reforms, Democratic Party Chairman Tim Kaine said.
At a Monitor-sponsored breakfast for reporters on Thursday, Mr. Kaine said there is "a concerted effort on the Republican side of the aisle to reverse what I think is a 30-year trend towards openness and transparency and to instead maximize the funding of campaigns through non-reportable entities where donors are not disclosed."
Kaine prodded reporters to pay attention to the phenomenon, saying, "this is a huge story.... It might end up being one of the biggest political process stories since Watergate as we see this trend of funding campaigns through non-reportable entities."
During the campaign, Kaine as well as President Obama and Vice President Biden have been critical of the fact that independent organizations are raising large sums to help Republican candidates and causes. Under the tax code, these social welfare organizations can raise unlimited amounts of money and keep their donors' names secret. Republicans respond that what they are doing is allowed under the law.
---