Q&A with Education Secretary Arne Duncan
At a Sept. 22 Monitor Breakfast, Secretary of Education Arne Duncan spoke about youth violence, performance-based teacher salaries, and rising college tuition.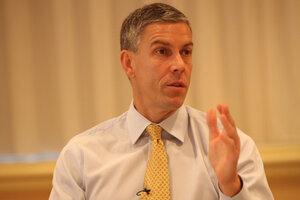 Michael Bonfigli/Special to The Christian Science Monitor
Education Secretary Arne Duncan was chief executive officer of Chicago's public schools for 7-1/2 years, the longest-serving big-city superintendent in the nation, before taking up his current post in January 2009. He was a guest speaker at a Sept. 22 Monitor breakfast in Washington, D.C.
Response to critics who say "shrunken student motivation" makes it tough to improve the performance of US high schools:
"Are there students who struggle? Yes. Is every student ... highly motivated? Of course not. The biggest challenge is working with children where ... Mom got beaten up last night or Dad got locked up for something.... But to act like [it's] the students' fault that we are not doing a good job educating them, I just couldn't more vigorously disagree."
How to improve high schools' performance:
"The lessons are it's hard work, but the lessons aren't that difficult. It's a lot more time for students; it's very high expectations. It's building a culture around college completion from Day 1. It's very strong adult relationships, no excuses, saying no child's going to fall through the cracks."
How to tell if colleges deliver value for the money:
---