Howard Dean: tea party is 'last gasp' of generation that fears diversity
Former Democratic National Committee Chair Howard Dean characterizes the tea party as 'almost entirely over 55 and white.' He says tea partyers are driven by the economy but also discomfort about the nation's demographic changes.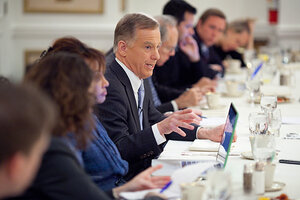 Michael Bonfigli/Special to The Christian Science Monitor
Economic uncertainty and concerns about the country's growing racial diversity are the two key factors driving the growth of the tea party, says former Democratic National Committee Chair Howard Dean.
Speaking at a Monitor-sponsored breakfast for reporters, Mr. Dean said "the fundamental driver is the economy. I think the unsaid issue that nobody wants to talk about is – and the Republicans get really upset when I mention this – is the demographic changes. There is no question about that."
Dean called the tea party movement, "the last gasp of the generation that has trouble with diversity."
He argued that, "The demographic changes we have all known were going to happen have happened and all of a sudden it is here for them and they don't know what to do.... Every morning when they see the president, they are reminded that things are totally different than they were when they were born."
---
Follow Stories Like This
Get the Monitor stories you care about delivered to your inbox.