Video: US challenge in Egypt is to guide 'amorphous mass' toward a process
To avoid bloodshed and ensure democracy in Egypt, a political process of some sort is needed, Zbigniew Brzezinski says. The challenge is tougher than it was to help European freedom movements decades ago.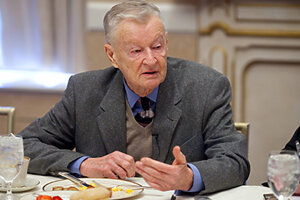 Michael Bonfigli / The Christian Science Monitor
The challenge for US policymakers in dealing with the crisis in Egypt is tougher than what officials faced helping freedom movements in central Europe decades ago, says Zbigniew Brzezinski, White House national security adviser under Jimmy Carter.
"The problem in Egypt is that we have an amorphous mass that is rebelling against a dictatorship. So our sympathies are with them. But how do we translate that into a democratic takeover? That is the challenge," Mr. Brzezinski said Thursday at a Monitor-sponsored breakfast for reporters.
"And one has to go beyond slogans on that. One has to have, as I keep repeating, a political process of some sort unless you want to have just bloodshed in the streets," the veteran foreign policy expert said. He is currently a counselor and trustee at the Center for Strategic and International Studies and a professor at Johns Hopkins University's School of Advanced International Studies, both in Washington.
---