Q and A with US Trade Representative Ron Kirk
US Trade Representative Ron Kirk discussed the importance of trade in today's economy, reports that he will be named Commerce Secretary, and whether growth of China's trade with Latin America is a threat at a March 10 Monitor lunch.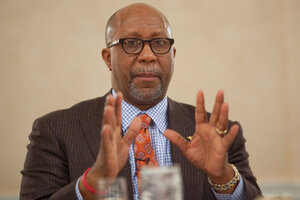 Michael Bonfigli/Special to The Christian Science Monitor
US Trade Representative Ron Kirk became America's top trade negotiator after serving as Texas secretary of state, mayor of Dallas, and an attorney specializing in public finance. He was the guest speaker March 10 at a Monitor lunch in Washington.
The importance of trade in today's economy:
"Trade isn't the panacea for everything. But you know ... you can't ignore the fact 95 percent of the world's consumers now live somewhere other than the United States."
The risk of a worsening deficit in the balance of trade as the cost of imported oil climbs:
"Our trade deficit sort of widens the better our economy's doing. So that may not necessarily be a bad thing.... What I am excited about is the fact that our exports were up exponentially [in January to] a very strong level.... What we are most ... tracking is how are we doing against our goal of doubling exports.... That would require roughly a 15 percent growth, and we are well ahead of that pace...."
Reports that the US Trade Representative's office will lose its independent status and be combined with the Commerce Department:
"It's not a rumor. We've heard of it. We welcome it.... It is hypothetical.... I don't think we should be afraid of stepping back and taking a look and saying what do we do really, really well as USTR, and what do our partners do really well at Commerce or Ag? ... If there's a way to rationalize that, I don't think we should be afraid of that conversation."
---
Follow Stories Like This
Get the Monitor stories you care about delivered to your inbox.