Energy Secretary Steven Chu: 'Imprudent' to close US nuclear plants
US Energy Secretary Steven Chu discussed Japan's nuclear crisis, the clean-energy transition, and the future of nuclear power in the US at the Monitor breakfast April 1.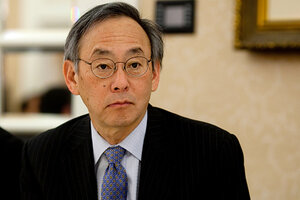 Michael Bonfigli/The Christian Science Monitor
Energy SecretarySteven Chu had a distinguished scientific career before joining Barack Obama's cabinet. He shared the 1997 Nobel Prize in Physics, was a professor at Stanford University, and ran the Lawrence Berkeley National Laboratory. He was the guest speaker at the April 1 Monitor breakfast in Washington, D.C.
Progress dealing with the damaged reactors at ­Japan's Fukushima Daiichi complex:
"They are making headway, but [in one reactor] ... there [are] significant levels of radiation that impede progress."
Nuclear energy's continuing role in US energy policy:
"We still believe that that has to be part of our energy mix.... We do not want to be generating our electricity from one source.... We want to have a diversified source as the renewables pick up ... steam, as the price drops and they become cost [competitive] without subsidy."
Calls to close nuclear plants close to population centers like New York City:
---