Q&A with John McCain: Libyans paid price 'in blood' waiting for no fly zone
Obama's decision to seek a multinational response to Qaddafi's attacks means 'the Libyan people are paying a very heavy price in blood,' Sen. John McCain said April 6 at a Monitor breakfast.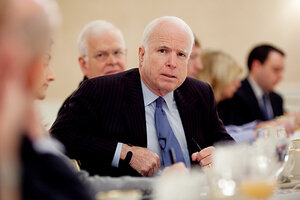 Michael Bonfigli / The Christian Science Monitor
Sen. John McCain was the Republican presidential candidate in 2008. A US Naval Academy graduate and a prisoner of war in Vietnam, he was elected to the Senate from Arizona in 1987. He is the ranking Republican on the Armed Services Committee. He was the guest speaker at the April 6 Monitor breakfast in Washington, D.C.
President Obama's national security policies:
"The president continues to rely on multinational efforts. I am all for multinational efforts.... But the United States still has to lead. And if the United States doesn't lead, then nobody leads.... If we had ... declared a no-fly zone ... [in Libya] three or four weeks ago, [Col. Muammar] Qaddafi would not be in power today.... The Libyan people are paying a very heavy price in blood because of our failure to act because of this overwhelming priority of having to act ... multinationally."
Mr. Obama's national security team:
"The international star is Secretary [of State Hillary Rodham] Clinton.... She has done a really tremendous job."
Whether defense spending should be part of a budget compromise to trim the federal deficit:
---
Follow Stories Like This
Get the Monitor stories you care about delivered to your inbox.