RNC chair: More GOP candidates will come – including some surprises? (video)
Reince Priebus, chairman of the Republican National Committee (RNC), says that the full slate of GOP presidential candidates could include some that 'we're not talking about' yet.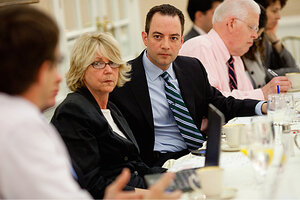 Michael Bonfigli / The Christian Science Monitor
So polls show GOP voters not satisfied with their current crop of presidential candidates? Don't worry, says the Republican National Committee (RNC) chairman. More GOP presidential candidates will enter the field – including potential surprise candidates – and party members will be satisfied with their choices, he says.
"Republicans around the country are going to feel that they have a very good alternative to Barack Obama," Chairman Reince Priebus told reporters Tuesday morning, at a Monitor-sponsored breakfast.
Priebus declined to put a specific date on the complete candidate roster, but said, "I certainly think that by the end of summer we are going to have a pretty solidified field."
"We don't actually believe that we are not going to have candidates running around Iowa and New Hampshire and South Carolina vying for votes," he added. "We will."
The latest Washington Post/ABC News poll found that barely 4 in 10 Republicans and Republican-leaning independents are satisfied with the current crop of Republican contenders.
---