RNC's Reince Priebus: GOP field to solidify by summer
Republican National Committee Chairman Reince Priebus, at a Monitor breakfast on April 26, discussed budget cuts, the 'birther' issue, and his reasons for running for the RNC's top post.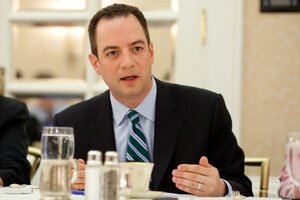 Michael Bonfigli / The Christian Science Monitor
Republican Party chief Reince Priebus was elected Republican National Committee (RNC) chairman in January, succeeding the controversial Michael Steele. Mr. Priebus, a lawyer, was the guest speaker at the April 26 Monitor breakfast in Washington.
His priorities as party chair:
"My job ... for the next few months is to rebuild credibility and trust at the RNC.... I have and I had a lot of work to do.... We have had some significant hurdles. We had a very low cash on hand [balance].... We had over $24 million in debt, and I had to get to work immediately."
RELATED: Will these Republicans run in 2012?
His motivation for running for RNC chairman:
"I would not have run for chairman of this party if the only thing I was concerned about is the future of the Republican Party. That is not enough for me to worry about.... In my heart I am worried about the future direction of this country.... We are in a fiscal mess ... and I believe that Barack Obama is largely to blame for the mess that we are in because he is not addressing the problems."
---