Monitor Breakfast Q&A: Rep. Steve Israel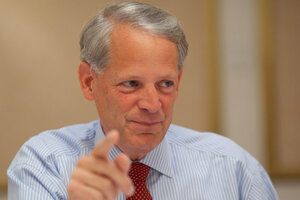 Michael Bonfigli / The Christian Science Monitor
Democratic campaign chief Steve Israel chairs the Democratic Congressional Campaign Committee, which is working in the 2012 elections to regain party control of the US House. New Yorkers elected Mr. Israel to Congress in 2000. He was guest speaker at the June 1 Monitor breakfast in Washington. Odds of gaining the 24 seats Democrats need to take control of the House after the 2012 election:
"I can't tell you we can get 24. It is going to be razor close.... The House will be in play, factoring in the uncertainties of redistricting and other challenges and opportunities."
The effect of constitutionally mandated redistricting based on the 2010 Census:
"It is going to be very close to a net zero. Maybe [Republicans] will pick up a couple of seats, maybe [Democrats] will pick up a couple.... Redistricting is not the threat, the huge, existential threat that the Republicans made it out to be."
Future impact of the May 24 special election in New York's heavily Republican 26th Congressional District, won by Democrat Kathleen Hochul amid voter concern about Medicare changes, per the GOP budget plan:
"New York 26 will inform our strategy; it will not be our strategy."
---