GOP Pollsters Say Obama Must Pull Voters Back from Brink of Anger
Conservative advocacy and polling group Resurgent Republic's Ed Gillespie, a former Republican National Committee Chairman, and Ed Goeas, a veteran GOP pollster, argue independents like President Obama but don't believe he's made the economy better.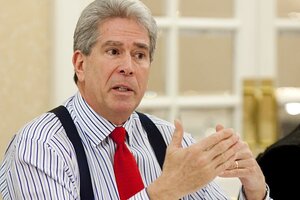 Michael Bonfigli / The Christian Science Monitor
Ed Gillespie, former Republican Party chairman, is on the board of Resurgent Republic, a conservative polling and advocacy group. The firm asked pollsters Ed Goeas, Glen Bolger, and John McLaughlin to hold focus groups with independent voters who back President Obama. Mr. Gillespie and the pollsters were guests at the July 8 Monitor breakfast in Washington.
How independent voters in the battleground states of Pennsylvania, Virginia, Florida, and California view Mr. Obama's economic policies:
Gillespie: "These independents who voted for him and generally approve of him, they don't blame him for the economy. But at the same time they are not kidding themselves that he made it any better."
Independent voters' mood:
---
Follow Stories Like This
Get the Monitor stories you care about delivered to your inbox.