Chief Gallup pollster says Obama's popularity sturdy even in poor economy
Gallup Poll Editor in Chief Frank Newport said President Obama maintains his popularity through trying economic times better than the experience of his predecessors would dictate.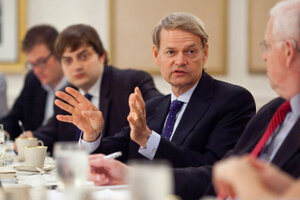 Michael Bonfigli / The Christian Science Monitor
Polling expert Frank Newport is editor in chief of The Gallup Poll, a nonpartisan global polling organization. He is a past president of the American Association for Public Opinion Research. He was guest speaker at the July 19 Monitor Breakfast in Washington.
The president's approval ratings:
"Obama is better situated in the minds of the average American than either Republicans or Democrats in Congress." [His approval rating in July was 45 percent, congressional Democrats' was 33 percent, and Republicans' was 28 percent, Gallup reports.]
Obama's approval ratings and the weak economy:
"He is overperforming.... His approval rating now is higher than we would predict it to be [given that only] 16 percent of Americans are satisfied with the way things are going in the US."
---