Napolitano: FEMA cash crunch shouldn't stop Irene relief efforts (VIDEO)
Disaster aid funds are running low but Homeland Security Secretary Janet Napolitano said Tuesday that Congress should put Irene relief first.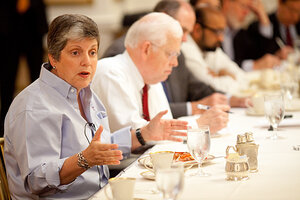 Michael Bonfigli / The Christian Science Monitor
Homeland Security Secretary Janet Napolitano is downplaying the danger that hurricane Irene recovery funds will be caught in a congressional budget battle.
Reports suggest that the Federal Emergency Management Agency's (FEMA) disaster aid fund has less than $800 million in it and will face major new demands from the storm that battered the Eastern part of the US last week.
At a Monitor-sponsored breakfast for reporters Tuesday, Secretary Napolitano was asked about comments made Monday by House majority leader Eric Cantor (R) of Virginia, who told Fox News on Monday that disaster assistance funds "are not unlimited and we have we have to offset that" with cuts elsewhere.
Napolitano responded: "That should not be the first concern of the Congress. And I don't think it is." She added that "the first concern of the Congress is what do we need to protect the safety and the security of the people that we are all privileged to represent."
---