GOP's Eric Cantor: Three ways we can work with Obama on jobs
Ahead of President Obama's jobs speech, House majority leader Eric Cantor sees places for potential compromise. But he hopes Obama won't try to dictate solutions to the GOP.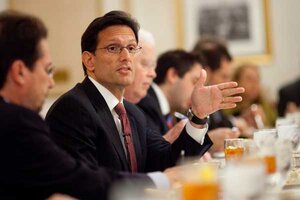 Michael Bonfigli/The Christian Science Monitor
House majority leader Eric Cantor said Thursday that he's looking forward to hearing President Obama's jobs speech tonight and that he's hopeful Democrats and Republicans can agree on some measures to try and get the economy moving again.
"The American people don't expect Republicans and Democrats to agree on every issue but given the times we're in the people who elected us expect us to be able to set aside those differences and work towards finding some commonality," said Congressman Cantor (R) of Virginia at a lunch sponsored by The Christian Science Monitor.
But Cantor said he also does not want Obama to come to the House of Representatives and say that if the GOP does not adopt the White House's recommendations whole, than Republicans will be putting party before country.
"I'm hopeful he will respect that we love this country, too," said Cantor.
An extension of the current payroll tax holiday for the middle class might be one area of common ground. The White House wrangled a time-limited reduction in that tax from 6.2 to 4.2 percent in a tax-cut deal it struck with Republicans last December.
---