Be careful how you talk about illegal immigration, GOP official says (VIDEO)
Illegal immigration is a key issue facing 2012 GOP presidential hopefuls. Former Senator Norm Coleman told reporters Tuesday that debating the issue is a good thing, but the tone of the debate is hurting Republican candidates.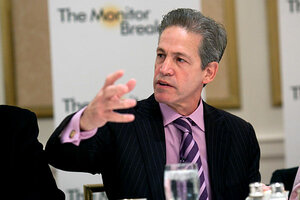 Michael Bonfigli/The Christian Science Monitor
Republican candidates need to watch the tone of their comments about immigration to avoid hurting their party, says former Sen. Norm Coleman, chair of the Congressional Leadership Fund, a Super PAC that works to elect Republicans to the House.
"It is not the debate, it is the tone of the debate and some of the voices that have been out there that I don't think have been very helpful," Mr. Coleman said at a Monitor-hosted breakfast for reporters. 
Immigration played a key role in last week's GOP debate on national security. During the debate, former House Speaker Newt Gingrich said he would favor letting certain illegal immigrants – those who had been in the country 25 years, paid taxes, and had ties to the community – stay in the US without being granted citizenship.
Rep. Michele Bachmann said Mr. Gingrich's approach "in effect is amnesty." Former Massachusetts Gov. Mitt Romney said Gingrich's plan would serve as a magnet for illegal immigration.
Coleman, who supports Mr. Romney's candidacy, said, "I have my own views on immigration. I supported a version of the DREAM Act when I was in the Senate." The Development, Relief, and Education for Alien Minors Act would have provided a path to citizenship for students through attending college or serving the US military. Romney opposes the DREAM Act.
The issue can be dealt with, Coleman said. "Having a debate about the issue doesn't hurt. I think it is the tone of the debate" that hurts. He added that "Republicans can say something [like], 'Before we do anything else we have to secure our borders.' You can do that in a way that says I still embrace immigration – legal immigration."
The only Republican politician that Coleman singled out for criticism on the immigration issue was former GOP House member Tom Tancredo, who ran an unsuccessful third party bid for governor of Colorado in 2010. He favored deportation of illegal immigrants. 
"When Tancredo is seen as being the voice of the Republican Party, that hurts," Coleman said. In 2010 "we got thumped in Colorado across the board by Hispanics, which I think helped cost us a Senate seat," Coleman said. 
---