Republican's warning to candidates: Profiling Muslims is 'far-fetched' (VIDEO)
Rep. Darrell Issa said Friday some GOP presidential candidates' idea of profiling Muslims to combat terrorism is comparable to the phenomenon called 'driving while black.'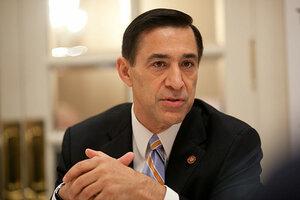 Michael Bonfigli/ The Christian Science Monitor
Rep. Darrell Issa, an influential House committee chairman whose family has Arab roots, said the idea advanced by some GOP presidential candidates of profiling Muslims to combat terrorism is "pretty far-fetched."
The California Republican, who chairs the House Oversight and Government Reform Committee, compared ethnic profiling of Muslims to the phenomenon called "driving while black" where African Americans are pulled over by police with unusual frequency when they drive in white neighborhoods. "That is just wrong," he said. Representative Issa spoke Friday at a Monitor-hosted breakfast for reporters.
The prominent Republican, whose paternal grandfather was born in Lebanon, was asked about comments made at the Nov. 22 GOP presidential debate on national security. At the event, former Pennsylvania Senator Rick Santorum told moderator Wolf Blitzer of CNN that he favored profiling and that "obviously, Muslims would be" targets.
Herman Cain said at the debate he favored something called "targeted identification" although he said giving Muslim Americans a more intensive pat down at airports was "oversimplifying it." Cain added, "Let's ask the professionals to give us an approach of how we can increase the identification of people that might be a danger."
---
Follow Stories Like This
Get the Monitor stories you care about delivered to your inbox.