Turkey: Materials likely destined for Iran nuclear program seized (video)
Turkey is determined to prevent Iran from possessing a nuclear weapon, Namik Tan, Turkey's ambassador to the US, said Thursday. It intercepted materials Iran might have used to advance its nuclear program, he says.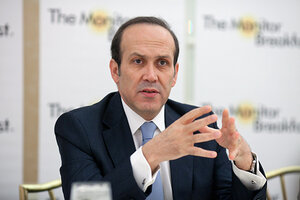 Michael Bonfigli /The Christian Science Monitor
Turkey has intercepted materials destined for Iran that could have been used to advance Tehran's nuclear program, Turkey's ambassador to Washington said Thursday.
The Turkish official, Namik Tan, said Turkey, as Iran's neighbor, is perhaps more determined than other more distant countries to keep Iran from possessing a nuclear weapon, and he suggested that Turkish-Iranian relations are deteriorating over the nuclear issue.
"Some other countries have tried to transfer certain goods which would help Iran's nuclear program, and we have stopped them," Ambassador Tan said at a Monitor breakfast gathering of reporters.
Tan refused to divulge any other information about the interception, including what the materials were, when it happened, and the country of origin, but he insisted that Turkey would never accept the existence of a nuclear bomb next door in Iran. Alluding to one line of thinking in Washington – that the international community will ultimately fail to stop Tehran's progress and so the real objective becomes containing a nuclear Iran – Tan said Turkey would never resign itself to an Iranian bomb.
"Even if you come to terms with a nuclear Iran, we will be against it," he said.
Turkish officials this year have acknowledged intercepting Iranian planes and trucks suspected of transporting arms to Syria, but US officials have repeatedly expressed concerns about Turkey serving as a conduit for Iran to procure equipment for its nuclar program – especially with bilateral trade soaring.
---