GOP strategist: Appeal to Latino voters is party's 'great challenge'
A new Fox poll of Latino voters shows a heavy preference for Democrats. To remain competitive, says GOP strategist Whit Ayres, Republicans must improve their appeal to Latinos and Asians.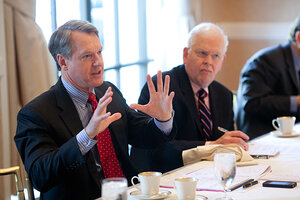 Michael Bonfigli/The Christian Science Monitor
Republican Party strategist Whit Ayres says a new Fox News poll showing a strong preference for Democrats among Latino voters underscores what he called "the great challenge of the Republican Party going forward" – doing better with non-white voters, especially Latinos and Asians.
"We will do better, in part because we are not stupid. We can count," Ayres said Thursday at a Monitor-hosted breakfast for reporters. "And it is pretty obvious that we can't continue to lose Latinos two to one as we did in 2008 and remain competitive as a national party. If we don't do better among Latinos, we are not going to be talking about how to get back Florida in the presidential race, we are going to be talking about how not to lose Texas."
While Florida is a swing state and went for George Bush in 2000 and 2004 and Barack Obama in 2008, Texas has been solidly Republican and last voted for a Democrat in a presidential election in 1976.
Ayres is president of North Star Opinion Research, which provides research and strategic advice to companies and Republican candidates. He also is the current chair of the American Association of Political Consultants. Ayres is co-founder of Resurgent Republic, a Republican organization that seeks to influence public opinion about the proper role of government.
---