US Chamber to Congress on transportation bill: You're doing it wrong
The US Chamber of Commerce expressed its exasperation with lawmakers for the way Congress is attempting to fund a transportation bill crucial to highway projects and repairs.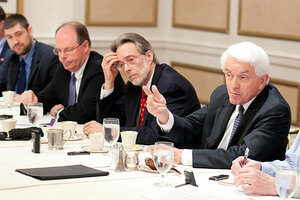 Michael Bonfigli/The Christian Science Monitor
The Chamber of Commerce's top brass has a message for Congress on transportation: You're doing it wrong.
"What we lack is anybody of any party willing to address the fundamental problem called money," said Bruce Josten, the chamber's executive vice president for government affairs, during a breakfast for reporters sponsored by the Monitor Monday.
Mr. Josten and Chamber CEO Tom Donohue expressed exasperation at how Congress has attempted to fund long-term investments in America's infrastructure and said congressional delay is costing jobs.
Members of the House and Senate are currently attempting to put together a compromise bill to extend transportation funding before a 90-day funding fix lapses at the end of June.
"Nothing happens in the states and in the communities when you've got a 90-day or a 120-day extension," Mr. Donohue said. Governors and mayors "can't write a contract [to build transportation infrastructure] in that amount of time, and jobs that could be had are not going to be had."
While congressional staffers have been meeting to lay the groundwork for a deal, Josten said that Congress would likely seek another, longer extension to push the bill to year's end or beyond.
The Senate passed a two year, $109 billion transportation bill by a 74-to-22 margin in March. The bill relies on a hodge podge of funding measures, such as tapping a trust fund for cleaning up leaks from underground storage tanks, to make ends meet.
---