Sen. Marco Rubio: Immigration 'not easily solved' on campaign trail
Sen. Marco Rubio (R) of Florida, speaking June 21 at a Monitor breakfast, defended Mitt Romney's support for a robust legal immigration system, while acknowledging he 'doesn't have a ... bill.'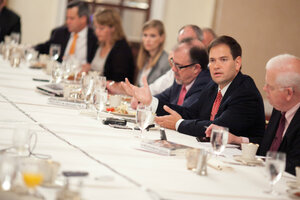 Michael Bonfigli / The Christian Science Monitor
Florida Sen. Marco Rubio (R) is a fast-rising Hispanic political star. He won a seat on the West Miami City Commission in 1998, two years after graduating from law school. Two years later, this son of Cuban immigrants was elected to the Florida House, becoming its youngest speaker. In 2010, he defeated Florida's Republican governor to win a seat in the US Senate, where he is the second-youngest member. Senator Rubio, talked about as a Republican vice-presidential contender, was the guest at the June 21 Monitor Breakfast in Washington.
If he thinks Attorney General Eric Holder should resign after a House committee on June 20 voted him in contempt of Congress for failing to cooperate in an investigation into a botched gun-running scheme on the border:
"At this point, I do.... We have about reached the point of no return on this issue. I think [the Justice Department has] been given multiple opportunities to answer very legitimate questions that the Congress has. We know for a fact that something they told the Congress was not true.... It's very legitimate for the Congress to inquire as to why we were told something that wasn't true.... And I think invoking executive privilege at the 11th hour [on June 20] was probably the last straw."
The visceral effect of the immigration issue for Hispanics:
"I call it a gateway issue, because for Hispanics, immigration is not a statistical debate. It is an issue regarding someone they know and probably someone they love."
---