Senator Schumer tweaks Karl Rove: If he were a CEO, 'he would be fired'
Sen. Charles Schumer, who has been a key figure in coordinating Democratic campaigns for Senate, said strategist Karl Rove got a 'poor return' for all the money he spent on GOP candidates.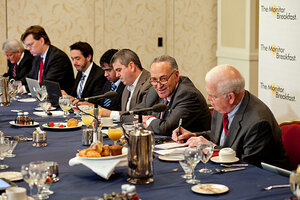 Michael Bonfigli/Christian Science Monitor
Sen. Charles Schumer (D) of New York says "Karl Rove's reputation is going to take a significant hit" as a result of the poor Election Night performance of two groups the prominent Republican strategist formed to help elect GOP candidates – American Crossroads and Crossroads Grassroots Policy Strategies.
"If Crossroads were a business, and Rove was the CEO, he would be fired for getting a poor return for his investors," Senator Schumer said at a Monitor-hosted breakfast for reporters.
Schumer is a key political strategist for his party and serves as vice chairman of the Democratic Conference and chairman of the Senate Democratic Policy and Communications Center.
The Center for Responsive Politics figures the two Rove-related groups spent $176 million on the 2012 election. Figures compiled by Bloomberg Businessweek show that Crossroads spent $127 million on television ads for losing presidential candidate Mitt Romney. Ten of the 12 Senate candidates and four of the nine House candidates backed by Crossroads also lost.
In a front page story on all independent political groups, The Washington Post said, "Never before has so much political money been spent to achieve so little."
Schumer echoed that view. "My greatest surprise in the election was that the [political action committees] had less of a impact than I feared," Schumer said. "I am hopeful that maybe it can pave the way for some reform. I think Republicans thought it was a mixed blessing both in terms of effectiveness but sometimes … the PACs, the 'super PACs,' were not doing what, say, [Senate Republican Campaign Committee Chair] John Cornyn might have wanted them to do – such as backing Mourdock against Lugar in Indiana."
---