Would a 'fiscal cliff' deal imperil John Boehner's tenure as House speaker?
Resolving the fiscal cliff this year may require Speaker John Boehner to take to the House floor a deal that a majority of Republicans will reject – a move that could risk his speakership in the next Congress, says the Democrats' Rep. Chris Van Hollen.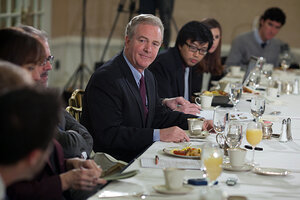 Michael Bonfigli/The Christian Science Monitor
Averting the "fiscal cliff" with a deal that most Americans would see as reasonable is within reach, but House leader John Boehner may not be able to take it to the floor for a vote until after he is reelected speaker on Jan. 3, says Rep. Chris Van Hollen of Maryland, the top Democrat on the Budget Committee.
That's because what President Obama calls a "balanced" deal – that is, one that includes tax hikes on the highest incomes as well as spending cuts and entitlement reform – is likely to "create more churning" in the House Republican caucus, and may mean that Mr. Boehner "doesn't get the votes necessary [to be reelected as speaker] on Jan. 3," he said at a Monitor breakfast with reporters on Wednesday.
"I hope he wouldn't avoid tough decisions simply to take us into January after his swearing-in, but I'm becoming increasingly worried that that's exactly what's going on," Representative Van Hollen says.
To avoid some $600 billion in automatic tax hikes and spending cuts that begin to take effect as of Jan. 1, the White House and Congress have, as a practical deadline, until week's end or, at the latest, Christmas to reach a deal, he says. "I don't assign a high probability to end of this week; I assign a high hope."
Republicans, too, charge that Mr. Obama is slow-walking the fiscal-cliff negotiations. "The president seems to be walking us ever so slowly toward the cliff," says House majority leader Eric Cantor of Virginia, after a meeting with the House GOP caucus on Wednesday.
---