Rep. Sander Levin: Debt ceiling standoff may make tax reform harder
Michigan's Rep. Sander Levin, top Democrat on the House Ways and Means Committee, says slow-walking the debt ceiling would also undermine prospects for immigration overhaul and tax reform.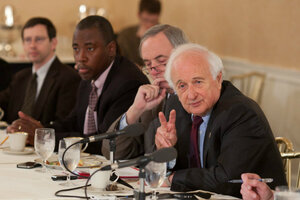 Michael Bonfigli/The Christian Science Monitor
The lingering impasse from December's "fiscal cliff" threatens to swamp Democrats' efforts to achieve priorities such as broad changes to gun regulations and a drive for comprehensive immigration reform. But if the fights over the debt ceiling and the budget-cutting sequester stretch well into 2013, tax and entitlement reform could also be at risk, the top Democrat on the House tax-writing committee said Tuesday.
Rep. Sander Levin (D) of Michigan told reporters at a breakfast sponsored by The Christian Science Monitor that Congress needs to "extend, if not end" the debt ceiling for a "considerable period of time" and replace the sequester – some $1.2 trillion in spending cuts over the next decade – with a mix of higher taxes and lower government spending.
Congress has roughly six weeks before those issues – and the need to extend funding for government operations – come to a head.
If President Obama and congressional Republicans can reach agreement those issues by then, Levin, the ranking Democrat on the House Ways and Means Committee, believes there's plenty of time for Congress to handle a reform of taxes and entitlement programs in 2013.
"I'm hopeful, if we don't drag this out, as some people are saying," Levin said, referring to rumored proposals for one- to three-month debt-ceiling increases, said to be favored by some House Republicans. "Those who are saying, let's do it dribble by dribble, they're the ones who would be undermining the effort to sit down and have a serious discussion on tax reform and the entitlements."
---