GOP's Rand Paul, Dems' Luis Gutierrez in step on immigration reform
Rep. Luis Gutierrez (D) and Sen. Rand Paul (R), in separate forums Tuesday, struck common ground on some of the thorniest issues surrounding immigration reform. Is a bipartisan deal close?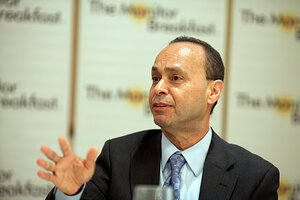 Michael Bonfigli/The Christian Science Monitor
In the immigration reform debate now under way in Washington, Democrats and Republicans are taking a steady march in one direction: toward one another.
On Tuesday morning, a leading Democratic advocate of immigration reform said his party would not require a special path to citizenship for undocumented immigrants, in keeping with a key Republican demand.
At nearly the same moment some two blocks away, a 2016 Republican presidential contender and tea party favorite embraced legal status and potential citizenship for the nation's 12 million undocumented people, which have been Democratic desires for more than a decade.
That's not to say the immigration reform debate is over – far from it.
But when Rep. Luis Gutierrez (D) of Illinois, a Chicago progressive who got himself arrested outside the White House protesting Arizona's tough immigration law, and Sen. Rand Paul (R) of Kentucky, a heartthrob of the conservative activist set and heir to the Paul family libertarian fame, stake out common ground on immigration reform? That's saying something.
Senator Paul joined a list of GOP immigration reformers who say they're willing to provide a pathway to legal status for 12 million illegal immigrants, provided it's paired with enhanced border security and no unique path to American citizenship.
The response from Representative Gutierrez, a key House negotiator on the issue? "I'm willing to take yes for an answer," he said.
Gutierrez, who crafted ill-fated bipartisan legislation on immigration reform during the tenure of President George W. Bush, tucked into questions from reporters at a Monitor breakfast just down the street from where Senator Paul at the same time launched into the immigration reform debate during a speech to the Hispanic Chamber of Commerce.
---