Homeland Security seeks student hackers to help counter cyberthreats
Homeland Security Secretary Janet Napolitano is out to find some 600 'hackers for good,' but sequester cuts are derailing recruiting drives to build a skilled cyber workforce in government.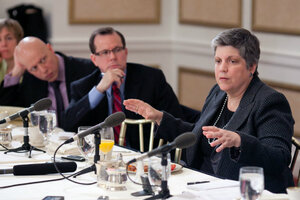 Michael Bonfigli/The Christian Science Monitor
There are "new and rapidly growing threats" of a cyberstrike to the US homeland – perils that will require hundreds of young, college-age hackers to counter an alarming number of daily incursions into the nation's electrical grid and financial networks, says Department of Homeland Security (DHS) head Janet Napolitano.
This will be "hackers for good," and the DHS currently has a need for about 600 of them, Secretary Napolitano added in remarks Tuesday at a Monitor Breakfast.
The need to develop a skilled cyber workforce has been a common – and formidable – challenge for a number of US government agencies, including DHS and the Pentagon, which is also struggling to build its own cyber workforce.
That's because most skilled "cyber warriors," as the US military calls them, often get recruited by private industry after their service commitments are up.
"That's a big concern, to be honest," says Col. Kiley Weigle, commander of the Air Force's Cyber Training Unit. "We have not, in my opinion, fully cracked that nut yet."
The Air Force set up an internship program for high school students, who were given security clearances to work in the service's Cyber Emergency Response Team unit.
But sequestration, which for the Pentagon has come with requirements to cut the number of temporary employees on the payroll, has forced a cancellation of the high school training program for the Air Force.
"I can't do the internship program anymore," says Maj. Gen. Suzanne "Zan" Vautrinot, commander of Air Force Network Operations at Lackland Air Force Base in Texas, who adds that the service is continuing to work to find ways to "give these kids experience so they can see our forensics."
---