Government shutdown still all about Obamacare, hard-liner warns
Michael Needham of Heritage Action for America says that the core fight is Obamacare and any bid to end the government shutdown must deal with it. 'No strings attached' doesn't get it done.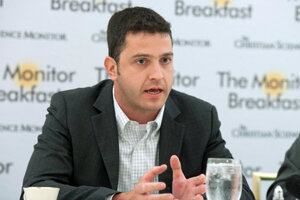 Michael Bonfigli/The Christian Science Monitor
Don't cave on Obamacare. That's the message to Republican legislators from the head of Heritage Action for America, a key advocacy group behind hard-liners on the budget battle that has shut down the government for nine days and counting.
"Anything that comes out of this has to address the core fight, which is Obamacare," the group's CEO, Michael Needham, told reporters Wednesday at a breakfast sponsored by The Christian Science Monitor.
That requirement holds no matter the length of a government-funding measure Congress passes – "24 hours, two weeks, seven years," says Mr. Needham, whose group is the political arm of the Heritage Foundation, a conservative think tank.
And just getting rid of the medical device tax, a source of funding for the Affordable Care Act (ACA), as Obamacare is formally known, isn't enough.
"I think the medical device tax is kind of a laughable suggestion that shows the extent of cronyism going on this town...," he says. "The medical device tax is a bad tax that should go away along with the rest of Obamacare."
House Republican leaders have backed off lately in their focus on Obamacare and the government shutdown and shifted more toward a budget deal to resolve the debt ceiling. In an opinion piece published Thursday in The Wall Street Journal, called "Here's how we can end this stalemate," House Budget chief Paul Ryan (R) of Wisconsin didn't mention the health reform act.
---