A subway hero's year of living famously
In an era of 'empty celebrity,' an ordinary man who performed an extraordinary act of heroism got more than 15 minutes of fame – but the freebies and swag are running out.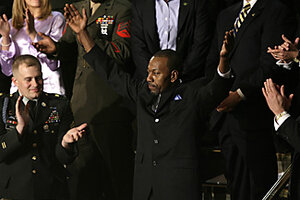 Chip Somodevilla/Getty Images
Being a hero sometimes means, among other things, that commuting costs less. And so Wesley Autrey Sr. – "Subway Hero," says his business card – has become accustomed to padding the morning with a little extra time to drive his Jeep Patriot from West to East Harlem, park it, and catch a crosstown bus to work.
His daily commute for the past year has been largely free of charge. The car, the parking, the insurance, the bus fare – all were gifts for his moment of bravery, or madness, or divine design a year ago when he jumped in front of a train to save a man he'd never met.
Cameron Hollopeter, a film student, had a seizure on Jan. 2, 2006, and fell on the tracks at a Manhattan subway stop as a train barreled toward the station. Mr. Autrey leapt on top of him, wrapped him in a bear hug, and squished Mr. Hollopeter and himself into the 21 inches between the bottom of the train and the bottom of the drainage ditch between the rails. Unscathed but for a bit of grease on his hat, Autrey kept the young man calm for the 20 minutes it took officials to free them. He retrieved his 4- and 6-year-old daughters waiting for him on the platform, changed his clothes, and went to work, learning, from the first moments, to fend off pushy reporters: "The New York Post wanted me to put on a Superman costume, but I said, 'No way, I'm late for work already.'"
With that, he learned the first rule of celebrity: Reality is mutable. The Post superimposed his face onto a Superman body instead.
---