General Honoré, Katrina and the Army behind him, retains civic aims
Retired Friday from the Army, he wants to help the public attain a 'culture of preparedness' like that of the cold-war era.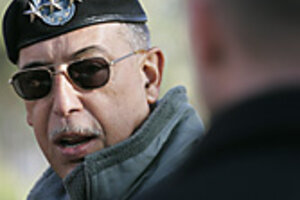 John Amis/AP
As commander of the First Army, Lt. Gen. Russel Honoré spent years preparing for a worst-case disaster that could befall his territory east of the Mississippi. When it came ashore on Aug. 29, 2005, hurricane Katrina exceeded his grimmest expectations.
Known as the gruff, cigar-munching "John Wayne dude" who shook New Orleans out of its daze after the flood, General Honoré retired Friday from a 37-year Army career in a ceremony at Ft. Gillem, just outside Atlanta.
In a Monitor interview, Honoré said he doesn't want his turning-point performance after the storm to be his only legacy. He hopes to make a mark, too, with what's next: an effort to guide civilian America, especially young people, back to the kind of "culture of preparedness" that was part of his own cold-war upbringing.
The greatest and largely unlearned lesson of Katrina, Honoré says, is that despite investments and improvements in federal and state disaster response, civic response remains weak.
"I'm sure you and your wife have a plan to meet at Uncle Joe's house, but does your plan include asking Mrs. Smith next door if she needs a ride?" he says. "We saw a lot of Mrs. Smiths in New Orleans."
Honoré will move to Atlanta's Emory University, where his immediate task will be to build a disaster-relief curriculum for use at colleges. He's also writing a book that he hopes to publish before next hurricane season. He hasn't ruled out entering politics, either, possibly in Louisiana.
---