The helping hand these days often holds a new house
House-gifting has become a major philanthropic trend in the US, in part fueled by reality TV shows.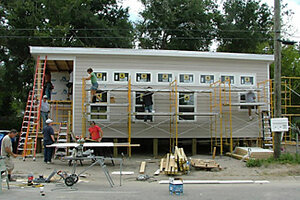 Kristen Zeiber/Gulf Coast Community Design Studio
After the big unveiling of her new house in Goffstown, N.H., a funny thought kept popping into Kelly Herod's head: "There's no food here to feed the kids."
Going from squalid house, or even no house, to the mansion of one's dreams is an increasingly common, and often disorienting, experience for disaster-stricken American families such as the Herods. Their home washed away last Memorial Day when the Piscataquog River left its banks. "I thought, 'I can't believe these people are going to build a house for nothing,' " says Ms. Herod.
As big storms have exposed gaps in federal assistance for housing, house-gifting – a modern take on barn raising – has become a major philanthropic trend in the US, experts say. Home-focused reality TV shows have helped fuel the trend and give it more visibility. Faith-based groups are among those picking up the hammers and making other key contributions.
In the past few years, more than a thousand families have received essentially free homes from New Hampshire to Mississippi.
"We used to give people money toward college. Now, we give them a house," says Dana Heller, a humanities professor at Old Dominion University in Norfolk, Va., and author of "The Great American Transformation."
---