Now showing: 'Hillary: The Movie' and election-law gripes
The film's creators dispute a finding that election rules apply to their promotional ads. Next stop: the Supreme Court.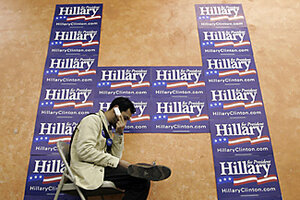 Reed Saxon
To many supporters of President Bush, Michael Moore's 2004 documentary "Fahrenheit 9/11" was a blatant attempt to use factual distortions, conspiracy theories, and irreverent wit to undermine the reelection of a sitting president.
The film's popularity did not go unnoticed among Republicans. Now, with the 2008 presidential primaries well under way, a Washington-based conservative advocacy group has produced its own political documentary. It's called "Hillary: The Movie."
There's just one problem. Without extensive broadcast advertising, few people will see it.
"I could have the movie in hundreds of theaters. I just can't let anyone know it is there by advertising it," complains executive producer David Bossie. "I can't purchase ad time on television or radio stations."
"Hillary: The Movie" premièred Jan. 16 in Washington. It is being screened in select cities, including showings in San Diego on Feb. 1 and Santa Ana, Calif., on Feb. 2. But because of its hard edge and timely political subject matter, the Federal Election Commission has put restrictions on three broadcast advertisements promoting the movie. Under campaign-finance regulations, ads for the film must include a political disclaimer and the film's financial backers must be disclosed to the FEC and the public.
---