Building at World Trade Center is a showcase of terrorproof technologies
Architects around the world are erecting skyscrapers that use a hollow concrete core surrounded by bomb-resistant glass and other security innovations.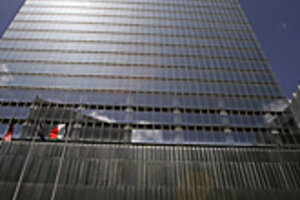 Spence Platt/Getty Images
When a documentary crew wanted to film the emergency glow-strips that line the expansive stairwells in 7 World Trade Center, Dara McQuillan called down to the security desk and asked them to flick off the lights. Moments after the stairwell went dark, however, a backup power system switched on and ruined the shot.
Mr. McQuillan, vice president of communications for the building, called again, but when the security desk shut down the backup system, this time a battery-powered generator flooded the stairs with light. The crew never got its dramatic glow-in-the-dark shot.
It has been hailed as the safest building in the world, its 52-stories of glass elegance belying a concrete core built to be a bunker in the sky. It is the first skyscraper to be completed at the World Trade Center site, and as it approaches its second anniversary, its innovative architecture and endlessly redundant security features – most of them designed from the lessons of the Twin Towers catastrophic collapse – offer a template for high-rise buildings in a post-9/11 world.
"The biggest change in high-rise construction now is this sealed, hardened core," says Dr. Herb Hauser, president of New York-based Midtown Technologies, a firm that specializes in security technologies for
buildings. "This means that the structure around the core can go down, or be on fire, or be invested with a biological or chemical problem, but the actual core itself will be protected." [Editor's note: The original version incorrectly stated that Dr. Hauser worked with architects designing new buildings for the World Trade Center site in New York. He didn't.]
---