Giants' Super Bowl upset lifts layoff-worried N.Y.C.
Mayor Bloomberg views the team's victory as a way to unite the city.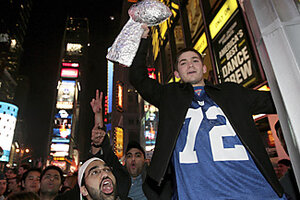 gary he/ap
New York needs the Super Bowl trophy.
Not just for the winter swagger-power over archrival Boston. Not because it's been 17 years since the New York Giants have won a Super Bowl (and 39 years for the Jets). But the 17-14 victory over the previously undefeated New England Patriots comes at a time when layoffs are racking the city, when the economic prospects for the Big Apple are changing for the worse.
On Monday morning, all over New York, people were buoyed by the victory. "Everyone's got their adrenaline flowing, and that's New York's preferred state of existence," says Doug Muzzio, a New York political analyst and Giants season ticket holder since 1961. "The team is like the city: We are hardworking; you can't stop us.... Sometimes we may not be the best, but when push comes to shove, we'll do the shoving."
The game itself was full of hard shoves on both sides of the line. The Patriots sacked the Giants' young quarterback, Eli Manning, three times. But in the Giants' crucial last drive down the field, Manning shook off what looked like a sure sack to lob the football 32 yards into the hands of receiver David Tyree. And with 35 seconds left, he lofted the game-winning touchdown pass to receiver Plaxico Burress.
---
Follow Stories Like This
Get the Monitor stories you care about delivered to your inbox.