Godtube.com puts Christian worship online
Entrepreneur Chris Wyatt draws millions to GodTube.com, a website with Christian content that features prayer walls, video clips, and social networking.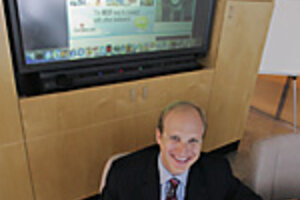 amy conn gutierrez/ap
Chris Wyatt bears many marks of the Internet Generation. His thumbs beat out text messages on his BlackBerry, while his 60-gig iPod croons a soundtrack for his life. He also sprinkles his conversation with words like "dude" and "man."
Yet Mr. Wyatt can always be found with one other item that sets him apart from many 30-somethings: a Bible. In fact, he carries a hard copy and two audio versions – one of which features actors, music, and sound effects.
Now Wyatt is trying to fuse his two passions, technology and God, in a venture that is changing how millions of Christians communicate, and harnessing technology as a force for worship and prayer.
Wyatt is the founder and CEO of GodTube.com, a video-sharing and social-networking website. "We like to think of it as Christianity on demand, 24/7, there when you need it most," says the clean-shaven and imposingly tall Wyatt, with excitement.
Wyatt was raised by Presbyterian parents in Oklahoma and attended a Roman Catholic high school. But for the most part, he says, he was just "going through the motions" in church and school: "Religion didn't stick, period." After studying finance at the University of Southern California, Wyatt launched a career in broadcasting and led a life that was, he says, "very godless, to say the least."
---