After the tornadoes: Rebuilding a campus, piece by piece
Officials at Union University in Tennessee scour buildings for possessions, clean up debris – and plan for providing an education on a campus splintered by a tornado.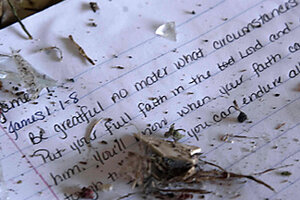 Carmen K. Sisson
It's a cold, blustery morning here in western Tennessee, the sun high and bright, the sky a preternatural robin's-egg blue. The kind of halcyon day reserved for picture postcards. The kind of perfect day depicted in glossy campus brochures.
An entrance sign to Union University blinks a cheerful welcome: "Get to know Union." Just beyond, less than 1,000 feet away, lies a cruel irony – Union's heart and soul laid bare, the lives of its students revealed in rainbow-hued paper and clothing clinging to winter-bare trees.
Nearly a week has passed since last Tuesday's storm system ripped through the mid-South, leaving a deadly trail of destruction across five states, including Tennessee, where the Baptist-based liberal arts school took a direct hit from an EF-4 tornado with winds topping 200 m.p.h. In awed voices, students run through the numbers and count God's blessings: 3,200 students, 1,200 on campus when it struck, 13 trapped, 51 injured – no fatalities. The buildings can be replaced, and many will have to be – 40 percent of the dorms were destroyed and 32 of the 33 buildings dotting the 290-acre campus sustained an estimated $47 million in damage.
It's the third time in less than a decade tornadoes have left Union picking up the pieces and trying to move forward. But the air is light today as students gather in the sunny yellow rooms of the Chi Omega house, now a makeshift command post. The shock is beginning to wear away, leaving an appreciation for life's smaller pleasures.
---