One man's crusade to stop the world from complaining
The Rev. Will Bowen, a minister in Kansas City, encourages people to wear a bracelet that he hopes will remind them not to grouse or gossip for 21 days.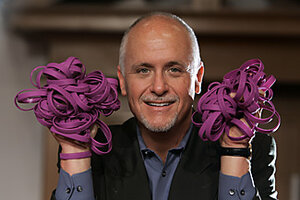 dick whipple/ap
The Rev. Will Bowen never intended to launch a worldwide movement. He simply made a suggestion to his parisioners one Sunday about how they could improve their lives with the help of a wrist band. Today he's sent out more than 5 million of them to 80 different countries – and has unwittingly unleashed one of the biggest self-improvement crusades since Dale Carnegie.
Not that he's complaining, mind you. And that's precisely the point. Mr. Bowen has given up complaining – well, mostly – and he wants the rest of the world, all 6.6 billion of us, to do the same.
Bowen believes there is a direct correlation between an excess of global grousing and why the world is not the way we would like it to be. He thinks what the world needs most is for people to stop griping and start focusing on the way things should be. "I strongly believe that our thoughts create our lives," Bowen says, sitting in his tidy office at Christ Church Unity in Kansas City, Mo., where he is the senior minister. "Our words indicate what we're thinking."
When Bowen first made his suggestion in that now-serendipitous sermon in July 2006, he simply urged his congregation of 250 to shift their focus from lack to abundance by giving up complaining for 21 days. It's the length of time, he said, that it takes to break a habit.
To reinforce his message, he handed out purple silicone bracelets stamped with the word "Spirit." Those who accept the challenge wear the bracelet, moving it from wrist to wrist whenever they catch themselves complaining. Those who manage to keep their bracelets on the same wrist for three straight weeks are issued a "certificate of happiness."
---