Homeless men find shelter in a book club
A Cleveland outreach nurse says there's camaraderie and escape in book discussion.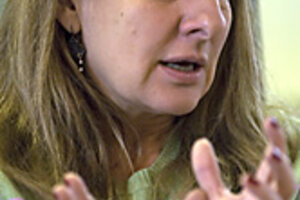 Teresa Hernandez/Special to The Christian Science Monitor
Every Monday at 4 p.m., Stephen King fans gather at 2100 Lakeside Men's Shelter. So do readers of Louis L'Amour, James Baldwin, and Malcolm X.
One recent afternoon, they spotted fellow King devotee Donna Kelly as she rounded the corner by the front desk. They followed her down a brightly lit hallway to a locked room, where she dropped her cases of sodas and snacks before backtracking to the shelter office to find a key and announce the start of the book club over the public address system.
Newcomer Marc Zak, a young man wearing thick glasses and work boots, waited outside the door, eager to start talking about books.
"That's all I do," said Mr. Zak who has been at the shelter for two months and favors mysteries, science fiction, and adventure titles. "I just read."
At a time when book-reading is declining and is especially low among poorer people according to a recent Associated Press-Ipsos poll, the book club at 2100 Lakeside seems ill-fated. But, while 1 in 4 people polled admitted to having read no books in 2006, homeless men here are reading two a month.
The books are supplied by the Cleveland Public Library which has partnered with Ms. Kelly's employer, Care Alliance, a health care provider for the homeless. Kelly, an outreach nurse, began the club last fall after noticing how many homeless men brought books to the health clinic she helped run in the shelter's cafeteria.
---