Steroids posed wrenching decisions for some players
Baseball players' depositions provide insight into the nature of the sport's drug culture.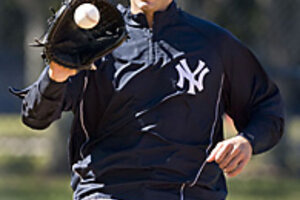 Scott Audette/Reuters
The thing is, Andy Pettitte knew the human growth hormone (HGH) wasn't going to help him. He'd tried it once, briefly, and felt no benefit. He'd advised his own father that the substance was too dangerous to use.
But even wealthy left-handed pitchers can be desperate. And in 2004, that is what Pettitte was. He'd badly injured his arm during his first game with his hometown team, the Houston Astros. There was the pressure of money – he'd just signed a $30 million contract. There was the pressure of expectations – he did not want his career to end on the disabled list.
So he used HGH for one more day. He injected himself twice, once in the morning and once in the afternoon. Later, talking to lawyers for the House Oversight and Government Reform Committee, the thing he seemed to struggle with most was the fact that he'd dragged his father into the mess by asking him for leftover HGH syringes.
"You know, now that I look back on it, it was about as boneheaded ... a thing as I could have done," Pettitte said in his deposition to the House panel.
The words of players who have admitted using performance-enhancing drugs, or considering them, provide wrenching insight into the nature of the drug culture in the sport long portrayed as America's pastime.
---