There's magic in Las Vegas rank-and-file talent
Legions of entertainers land in Vegas, and Englishman Mat Black is one desert transplant making a living at his craft.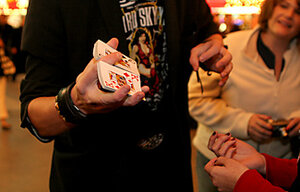 Richard Brian/Special to The Christian Science Monitor
Hands are a strange thing to dwell on, but Mat Black's demand notice. He has long, slender fingers with short, well-kept nails. Like a violinist, he spends several hours at a time training them to move: a flick of the wrist here, a tap there. He needs the muscles to remember what to do when he is distracted by the story he's telling, or by his nerves. One wrong move and he looks like the worst kind of idiot: the guy who interrupted your meal to show you a magic trick only to botch it, dropping coins from all the wrong places or forgetting where the queen of hearts went.
This hasn't happened to Mr. Black, yet. In a world of adolescent dabblers, he's a budding pro, a man who provides for his wife and baby by seeming to make pens disappear, or cards change, or, most eerily, to read your mind.
Black is an up-and-coming magician who moved from the beaches of Brighton, England, to a city convinced it's seen everything.
The bar for standing out here is pretty high, but Black sails over it. He is 6-foot, 5-inches tall and looks, according to the catalog of compliments he has received, like everyone: Ashton Kutcher, Johnny Depp, and, on some days, Brad Pitt. When he works, he wears an outfit that seems more personal style than stage costume: black pants and sport coat and black Converse sneakers with white laces. If there's a singular trademark here, it's the black fedora, "which instantly makes me cooler" than the average magician, Black jokes.
---