'Hollywood' Bob McRae gets his classic cars on the Big Screen
The retired automobile dealer owns a fleet of 45 old vehicles, which he rents to studios for about $300 per scene. You've probably seen them – in 'The Aviator,' 'Pearl Harbor,' and 'Seabiscuit.'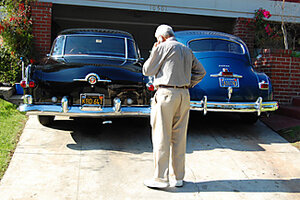 evan pondel
On most days, Bob McRae's home is flanked by seven cars wearing muted gray sheets. But on this particular morning, the covers are off and Mr. McRae is giving his cars a patent-leather shine, his buff cloth licking the dust from an egg-shell blue convertible Rambler.
McRae, a sturdy man with a whisk-broom mustache, has married two of his passions – cars and movies – to create a second career late in life: renting classic automobiles to film production studios throughout Los Angeles.
He has developed a reputation as a go-to man for old motion-picture cars, making him as well-known among some crews on Hollywood back lots as Tom Cruise or Kate Hudson. Indeed, his vintage vehicles, which include a bejeweled 1951 Packard, 1963 Lincoln Continental, and 1932 Dodge, have appeared in such movies as "Walk the Line," "The Aviator," "Seabiscuit," and "Pearl Harbor."
When studios rent a car from "Hollywood Bob," as he's appropriately called, they know they will be getting a meticulously maintained vehicle, one that is likely to slow down when an actor (or frequently McRae himself) pumps the brakes, something that can be a concern with old vehicles on set.
"Hollywood Bob is great because he knows his cars, and he's able to stop on a dime," says Antoinette Meier, chief executive officer and casting director of Aba Antique Autos in Beverly Hills, who has worked with McRae on numerous movies.
---