Home-schoolers reel from California court blow
A ruling that parents in the state 'do not have a constitutional right' to home-school their children prompts anger, confusion. Schwarzenegger may ask legislature to intervene.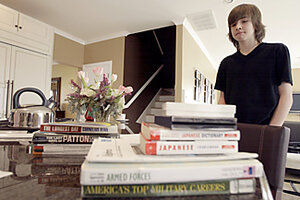 Damian Dovarganes/ap/file
A court ruling that California parents "do not have a constitutional right" to home-school their children has touched off anger and bewilderment throughout America's home-schooling community and prompted a denunciation from Gov. Arnold Schwarzenegger.
For a movement that has gained greater accommodation in recent years, a state appellate court decision last month is a setback that, if not overturned on appeal, could force some 166,000 home-schooled students in California to enroll in conventional schools. It may also prod California and other states with vague or nonexistent laws on home schooling to be more specific about what is allowed and what is required of home-schoolers.
California's education statutes, for instance, do not mention "home schooling," but officials have allowed the practice for decades. The appellate court, however, found that the state's laws have not been changed to allow home schooling since a case back in 1953 erected a major roadblock to the practice.
Governor Schwarzenegger said Friday he would go to the legislature if the ruling is not overturned.
"I could see this [ruling] being a real strong impetus for home-schoolers in California to get the legislature to change their laws.... Or I could see it being perhaps the beginning of other states wanting to look more closely both at their laws and current enforcement," says Kimberly Yuracko, a professor at Northwestern University's Law School in Chicago.
---
Follow Stories Like This
Get the Monitor stories you care about delivered to your inbox.