Shy school librarian finds success as author
Laura Schlitz lives out her own real-life fable – her children's book is 'discovered,' wins a prestigious award, and fame comes knocking.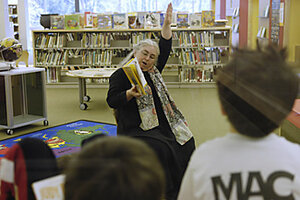 Andy Nelson
The school bus honked and pulled over, startling Laura Schlitz as she was taking a walk in her residential neighborhood here. The bus driver leaned out and called to Ms. Schlitz: "Aren't you the lady who won that big book award? I recognize you!" It is at such moments that Laura Amy Schlitz, whose book "Good Masters! Sweet Ladies! Voices from a Medieval Village" recently won the 2008 Newbery Medal, the most prestigious prize in children's literature, realizes that she is not simply a school librarian anymore.
The story of Schlitz winning the Newbery Medal has all the makings of a modern fairy tale: The shy school librarian who toils for years in obscurity, writing stories for the children at her school in her spare time, but finally summons the courage to submit her work to publishers. She suffers initial rejection, but then her fortunes turn, her manuscript is plucked from the slush pile by a clever editorial assistant (at Candlewick Press in Cambridge, Mass.), which then publishes four of her books in quick succession, all greeted by glowing reviews.
Cut to the scene of a phone ringing in pre-dawn January darkness, informing Schlitz (in her nightgown) that one of those books has won the Newbery Medal, the Pulitzer of children's literature. Then a montage of flower bouquets, cascades of congratulatory notes, and the dazzle of television lights when she is summoned to New York to appear on the "Today Show."
---