In Atlanta's 'Cabbagetown' neighborhood, a storm brings peace
Longtime Appalachians and hip urban newcomers came together to clean up tornado damage.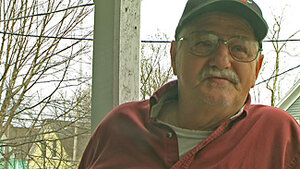 Kurt Lancaster
Ronnie Edwards fired up his radio to listen to the Georgia-Kentucky game just about to start at the Georgia Dome. The game announcer started talking about debris flying around the press booth. Then Mr. Edwards heard the primal roar.
He flung himself to the floor. "I was on that floor talking to the good Lord when the tornado came over," recalls the retired grocery store manager. "I asked Him to have mercy – and 'Your will be done.' "
The March 14 tornado, the first to hit downtown Atlanta, caused one fatality, toppled Confederate grave markers, popped windows out of the iconic Westin Hotel, and created perhaps more than $150 million in damage.
But in the aftermath, Edwards and other longtime residents of the Atlanta neighborhood known as Cabbagetown found common ground with newcomers who have transformed the Appalachian enclave into a hip urban district.
"They're their own group, and sometimes they turn their noses up to us old-timers, but this storm showed a new side of them," says Edwards. "They were Johnny on the spot. They're good people."
Ziggy Salvador, a motorcycle-riding blacksmith with a spectacular fu manchu beard, is one of them. He moved to Cabbagetown two years ago, somewhat reluctantly. He spent last week commandeering crews to clear the streets of debris and patrolling the neighborhood.
Despite new construction and the mix of skate punks and young families who have largely replaced the Appalachians, Mr. Salvador says Cabbagetown is still defined by the urban hillbillies who settled around the Fulton Bag and Cotton Mill in the late 19th century.
---