A New York street photographer keeps on clicking
Vivian Cherry is nearly 90, but her career is blooming with the publication of her first book.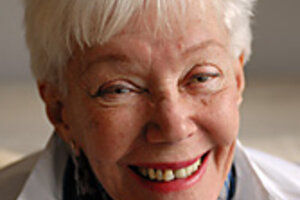 Mary Knox Merrill – staff
Twice a week, Vivian Cherry – a veteran street photographer – leaves her midtown Manhattan apartment and gets on a bus.
"I never have any idea what I'm going to shoot," she says of her routine. But she does have a destination in mind – maybe East Harlem, where she was born, or the Lower East Side.
When she arrives – sometimes finding herself on a block she hasn't seen in 50 years – she wanders past bodegas, through parks and street fairs, like a patient hunter.
"I try to be invisible," Ms. Cherry says. Thin and white-haired, clad in jeans and sneakers, she pretty much blends into the street. "Once somebody sees you, everything changes. You don't get what you're looking at."
When somebody catches her eye, Cherry doesn't hesitate. She explains wryly that if that person calls out, "'Don't take my picture!' I just say, 'I didn't.' And I walk away."
For 60 years, on and off, Cherry has been photographing the enormous changes and small mood shifts of New York City streets. As a young woman, working for prominent magazines of the '40s and '50s such as Parade and Pageant, she caught a world that was on the verge of vanishing: She shot cattle being herded across the cobblestones of the Meatpacking District and hushed crowds watching the tearing down of the Third Avenue El. Now approaching 90, she is still fascinated by the city's changes: In a rapidly gentrifying Manhattan, she recently shot a weary Mexican father on a stoop, his sleeping daughter draped across his lap.
---