The man behind the Phillie Phanatic
Tom Burgoyne makes green fur a marketing coup as pro sports' top mascot.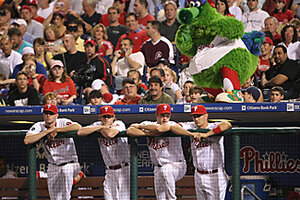 Drew Hallowell/Getty
The game may be baseball but it's the lacrosse helmet that makes Tom Burgoyne a hit. Feathery, furry, and securely strapped on his head, the helmet lets Mr. Burgoyne – the inner self of the Philadelphia Phillie Phanatic – move.
While many big-league sports mascots are prisoners of static heads and frozen smiles, this one can do the double take. He can dodge and weave, bump and roll, swipe a shirt from a player and – like an overexcited Labrador retriever – dash it around the stadium and bestow it on a pretty girl, all the while feigning surprise at his own daring.
Created 30 years ago to bring more kids to the park, and later boosted to JumboTron dimensions, the Phanatic was recently crowned top sports mascot by Forbes.com. Along with the San Diego Chicken, Forbes said, the Phanatic "pretty much revolutionized the role of the mascot – from cheerleader to full-fledged entertainer – at ball games in the late '70s, influencing the many that have followed." The award was the result of a Davie-Brown Index study assessing the brand recognition of the mascot's ilk.
---