Two entrepreneurs turn discarded skis into outdoor furniture
Call it a case of the New Yankee Workshop meets Bode Miller.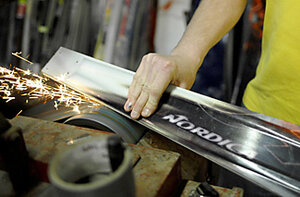 mark thomson
Except for the flouring of sawdust that covers everything in Mike Bellino's workshop here, the place looks more like a used sporting goods store than a furniture factory. Skis in seemingly good condition poke out of almost every nook. Dozens droop off the top of a salvaged refrigerator. More fill corners of a breezeway to the backyard, where hundreds – organized by brand and color – occupy long rows.
As alluring as these skis are, Mr. Bellino hasn't spent a fortune to amass 100,000 of them, most of which he stores in four garages until partner Ken Moreau turns them into something worthy of Norm Abram – Adirondack chairs. Except for some shipping costs, he hasn't paid a cent. "The concept of free skis – it's just fantastic," says Bellino, founder of Skichair.com, grinning. "It's like being a kid in a candy store."
Bellino gets skis and snowboards free for the same reason that tons show up in landfills: There's no market for them. As Mr. Moreau notes, "The technology of the ski industry changes so quickly that a ski that's three years old is obsolete." Plus, skis get fabricated with slight defects or returned under warranties, all of which makes them unsellable. As a result, decent equipment often ends up in a Hefty bag – or Bellino's pantry.
Now a boutique industry is springing up to use the discarded equipment for everything from Burton benches to Salomon swings, minus the bindings, of course. Call it the New Yankee Workshop meets Bode Miller.
The ski industry itself is encouraging some of the entrepreneurialism. The idea of skis being thrown away like Q-tips detracts from the industry's high-profile efforts to go green. Resorts are doing everything from putting solar panels on chalet roofs to reducing food waste at cafeterias.
---