Back from Iraq, veteran finds charity work, maybe politics
Former Army Capt. Jon Powers launched War Kids Relief to help Baghdad's orphans.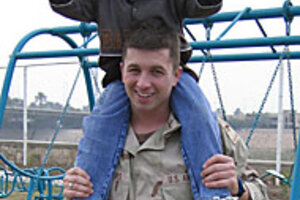 Courtesy of Jon Powers
When Army Capt. Jon Powers entered the gates of the Baghdad orphanage in January 2004, the nun in charge pulled him aside. Insurgents had noted his soldiers' visits, she said, and they'd threatened to kill the children if the Americans didn't stop coming with donations of toys and clothing.
"Aside from losing my guys, it was my darkest day there," says Mr. Powers, now back in the US and discharged from the Army.
Giving up visits to that orphanage and another in Baghdad's Adhamiyah neighborhood was surprisingly crushing. Through 14 dusty, exhausting months – including losing four men and a translator with his battalion during battles in Adhamiyah – Powers's touchstone had been those kids.
"Soldiers could take their gear off and remember what we were doing [in Iraq]," he says of the visits, one of which involved delivery of 5,000 pairs of shoes donated by Americans.
Cut off from the kids after that January day, Powers found himself anxiously awaiting July, when he could go home and leave it all behind. Little did he guess those orphans would stay with him – and help to change the direction of his life.
A fork in the road
He was back in Buffalo, N.Y., by mid-summer, the guest of honor at a welcome home party by the Harris Hill Men's Club, founded in part by his father. The former altar boy and Eagle Scout was home, but the war – which he calls "the defining experience of my life" – had left a deep imprint. It found expression as a drive that would eventually turn, Powers says now, "into something positive."
---