March (pizza) Madness
What is it about sporting events and pizza? Ride along with delivery person Tina Lance.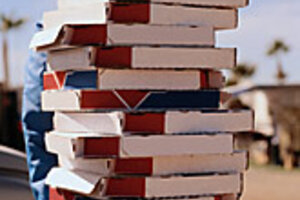 Jules Frazier/NEWSCOM
A white pickup truck hurtles with urgency down Wilshire Boulevard. Gripping the wheel is Tina Lance, a brown-haired, 20-something with a winning smile and a mission that, in the course of the afternoon, will cause her to quote Jean-Paul Sartre, Emily Dickinson, and the immortal baseball poem "Casey at the Bat."
She turns around at the next intersection and stops in front of an apartment building. She grabs her precious cargo and hurries into the building. Part intuition, part adrenaline, she swiftly finds her target, and within moments, has completed her mission – delivered a Sicilian pepperoni pizza to customer Matt Flores.
It is 20 minutes before the start of the game – the semifinals of the NCAA Division I basketball tournament, and Ms. Lance has just participated in one of the more lucrative exchanges in the national nexus between food and sports. We're talking "March Madness" and pizza. Millions of pizzas, actually. Acres of anchovies. Silos of sausage.
Pick your metaphor: If the topping goes on pizza, Americans consume it. Especially during the three-week March Madness run, a time when millions of Americans, mostly men but increasingly women, sit on their couches and watch endless basketball games, hardly moving except to answer the door when a Tina Lance knocks.
All of which raises fundamental questions. What is it about pizza and athletic events? For that matter, what is it about college basketball? And are tomatoes really a fruit or a vegetable?
---
Follow Stories Like This
Get the Monitor stories you care about delivered to your inbox.