Panning for gold in California streams
Hundreds of modern-day forty-niners take to streambeds across the West as the price of the precious metal hovers near $900 an ounce.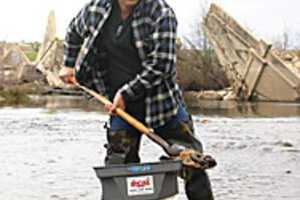 ben arnoldy
Roger Plata sits in a camp chair on a shallow sand bar in the San Joaquin River. He scoops some silt from the frothy river bottom and drops it into a sluice – a boxlike device that sifts sediment using a screen and running water. Pebbles clatter across the metal grate like marbles in a glass jar. Mr. Plata takes the filtered material and swishes it in a pan. He peers at the result: a bed of black sand with a few conspicuous flecks.
Gold.
"I'm not a professional miner yet by any stretch of the imagination," says Plata. "But it's just around the corner as far as I'm concerned. I could just about quit my day job right now."
Plata and his friends picking through this river in the hogback hills of the Sierra Nevada are quixotic evidence of the reawakening of America's forty-niner spirit.
With gold hovering around $900 an ounce, the lure of striking it rich that brought pioneers to California 160 years ago and still draws the world to Las Vegas is beckoning people once again to streambeds across the American West.
Prospector clubs are flourishing, claims are getting staked like fence posts, and some sourdoughs are flirting with turning a hobby into a career. Indeed, membership in the Gold Prospectors Association of America (GPAA) has tripled in just the past few years – and is adding as many as 250 people a day so far in 2008. The circulation of once obscure mining journals is booming, and panners and prospectors have filed more than 1,500 new mineral claims in California in just the past three months.
---