A year after Virginia Tech, sharper focus on troubled students
Many campuses have new practices.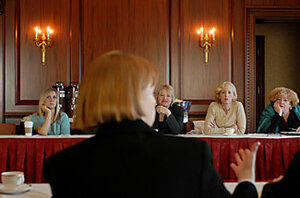 Mary Knox Merrill – staff
April 16. The date of Virginia Tech's tragedy resonates for campus leaders the way Sept. 11 does for the nation.
The fatal shootings of 33 students and faculty there a year ago have put colleges and universities on high alert for potentially troubled students. On many campuses, that means more support is available. But the incident has also caused a reaction in some places that mental-health professionals view with concern. When students with serious mental issues are unfairly barred from campus, they say, it doesn't improve campus safety and could drive the problems underground.
"We are seeing the campuses really trying to understand who needs help ... so they don't fall through the cracks," says Kevin Kruger, a spokesman for the National Association of Student Personnel Administrators, based in Washington. But he says a growing number of faculty have been calling administrators about disruptive students, saying things like, "I want them out of there."
One student took an overdose of pills and then threw them up and sought counseling. The next day, the school placed her on leave.
---